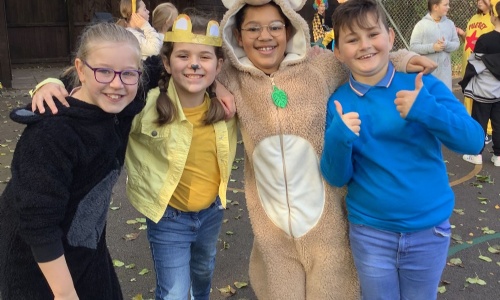 Nelson Academy families and staff have big hearts and that becomes very apparent each November as they generously donate both their time and pennies towards Pudsey's worthwhile cause. Our Children In Need fundraisers seem to get more elaborate and extravagant every year and this year was no exception. We borrowed the BBC's theme Of "Together We Can" and used it as our own with a bit of a bear theme.
This year we wanted to cultivate our students' teamwork skills by challenging them to a plethora of curriculum-based tasks and challenges. Each class was assigned a species of bear in which they had to complete the challenges to earn "food" to get their bear through winter. These challenges included taking part in the gruelling cardio-drumming marathon, going on a bear hunt trying to find celebrity bears hidden around the school, or completing math problems to decode some of Fozzie Bear's favourite jokes.
Students also polished their DT and Art skills by baking bear shaped cookies and drawing bear portraits. Some students used their geography skills to assist Lorek Bryrnison, the Bear from the Golden Compass, find his armour, whilst others were introduced to debating to discuss whether or not bears should be reintroduced into the wilds of Britain.
In the end we all had fun, learned lots and most importantly we were able to raise £422.71, which in the end was our goal all along.
Click below for the Radio Norfolk Interview from Nelson Academy